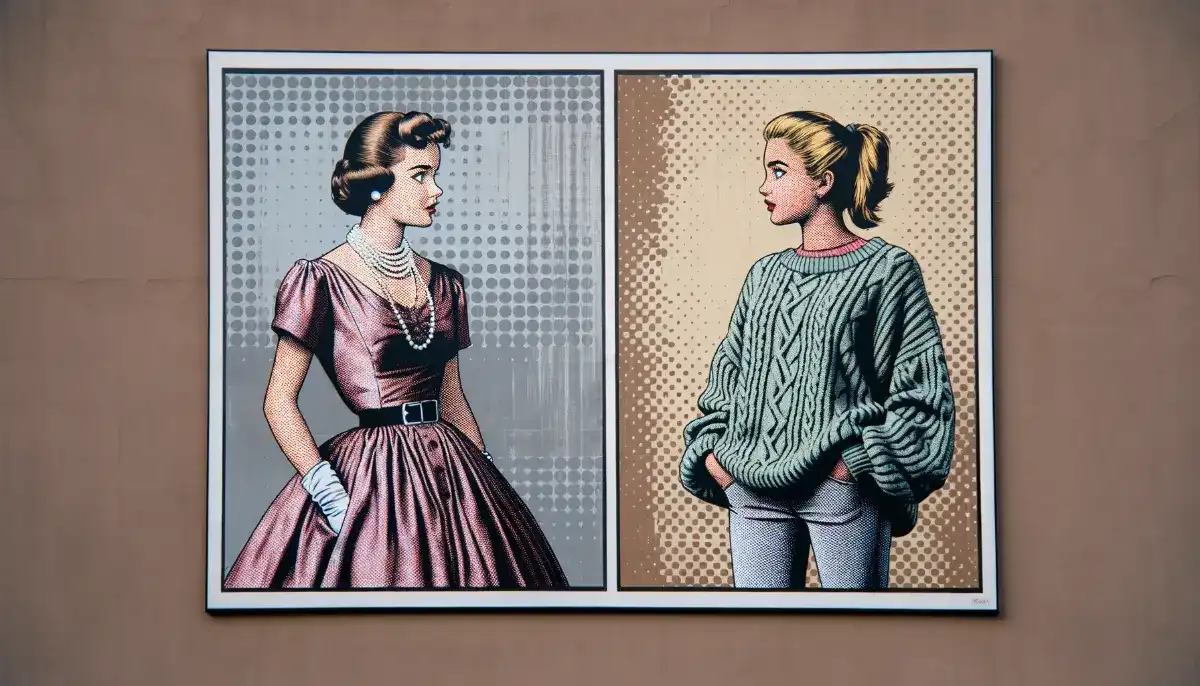 Fashion Trends Throughout the Generations
Fashion helps to understand how culture changes over time. For decades, generations have used fashion to share their values and identity. Young people use fashion to express themselves and to question the rules. They often wear things that surprise older people. But over time, these bold fashion choices become normal for everyone.
For example, rebellious flappers wore daring outfits in 1920s.[1] Today, Gen Z is playing with fashion in new ways too.[2] Fashion and culture are closely linked, and the story of the past and current century fashion shows it clearly. This article will look at how fashion has changed from the days of the Greatest Generation to today's Gen Alpha.
Greatest Generation Fashion
The Greatest Generation came of age during the Great Depression and World War II. Fashion at this time reflected the frugality and practicality necessary for survival. Women typically wore knee-length dresses with padded shoulders, nylon stockings, simple hats, and low heel shoes. Men wore neutral suits with wide legs and lapels paired with fedora hats. The signature look for both men and women was formality and modesty, with an emphasis on durable, functional clothing.
For women, wartime rationing and manufacturing restrictions limited wardrobe choices. Day dresses with midi hemlines were worn with thick seamed stockings and practical leather oxfords or low heels. Shoulder pads and masculine suiting details gave structure to dresses, jackets, and blouses. Makeup was minimal — red lips and sculpted eyebrows. Hair was often rolled, tucked, or pinned into utilitarian styles suitable for wartime industrial work.
Men's business attire was predominantly gray, navy, and black wool suits boasting wide, padded shoulders and high-waisted pleated trousers. Suspenders were common alternatives to belts. Formal hats like fedoras were worn daily. Enlisted men's uniforms influenced civilian menswear through the 40s. Bold stripes, khaki colors, and military details like epaulets carried over.
Silent Generation Fashion
The economic prosperity of the 1950s opened new avenues for fashion and consumption. After the austerity of wartime rationing, indulgent silhouettes and fabrics entered mainstream women's fashion. Christian Dior's lavish New Look of 1947[3] featured rounded shoulders, nipped-in waists, and full calf-length skirts. To achieve these voluminous looks, women wore circular crinoline petticoats and padded bras underneath.
Daywear included full skirts with petticoats and ladylike blouses tied at the waist. Fitted blazers with peplums, tailored shirtdresses, and sleek pencil skirts epitomized the 9-to-5 style. Pastel colors and floral prints conveyed suburban femininity. Pearls, white gloves, cat-eye sunglasses, and elegant pumps finished iconic workwear and daytime ensembles.
At home, housewives embraced practical but pretty styles like swing dresses and shirtwaist frocks cinched with apron-like belts. Loungewear aestheticized functional garments like high-waisted culottes, turbans, and robe coats are ideal for childcare and homemaking.
New synthetic fabrics like nylon and rayon enabled colorful prints, delicately embroidered detail, and expensive-looking sheen at affordable prices. Mass manufacturing enabled more women than ever before to participate in fashion.
Menswear also expanded beyond the conformity of grey and black business suits. Sports coats offered business casual options, while Hawaiian shirts, letterman jackets, and guayabera shirts reflected vacation and leisure pursuits. The greaser rebel look,[4] popularized by films like The Wild Ones, introduced black leather motorcycle jackets, white t-shirts, and jeans as symbols of edgy masculinity. Continental European influences brought tailored Italian suits, turtlenecks, and slim trousers to avant-garde dressers. Changing lifestyles opened the door to a new century of unparalleled choice and creativity in fashion.
Baby Boomers Generation Fashion
The Baby Boomers Generation was in favor of more casual styles influenced by Hollywood stars and rock n' roll music. Poodle skirts, leather jackets, blue jeans, and saddle shoes became trendy for teens. Women swapped constricting girdles for bras and garter belts. The iconic housewife style included shirtwaist dresses, pearls, and a perfect hairdo. Menswear took inspiration from the counterculture beatnik movement, with black turtlenecks and relaxed trousers becoming mainstream. Youth culture was beginning to assert a new sense of style and identity.
The 1960s and 70s saw an explosion of fashion creativity and experimentation. The free spirit of the hippie movement inspired bohemian trends like bell bottoms, tie dye, peasant blouses, and fringe vests. Miniskirts and maxi dresses also came into vogue, representing the era's rejection of traditional gender roles. Disco style brought platform shoes, polyester pantsuits, and bold prints. Menswear paid homage to rock stars with long hair, colorful prints, velvet suits, and flared trousers.
Jackie Kennedy epitomized early 60s refinement with prim skirt suits, pillbox hats, and strings of pearls.[5] Bohemian styles crept in later in the decade through the hippie movement's peasant blouses, maxi skirts, headbands, and fringe suede vests. The miniskirt was the defining look of the era. Crocheted, knit, and vinyl retro-futuristic minidresses were worn with tall boots or go-go heels.
Menswear became more colorful and individualistic, with psychedelic prints, Nehru collar jackets, slim-cut pants, and turtlenecks favored by rock musicians and their youthful fans. Surfer culture-inspired bright button-down shirts and voluminous belted pants. Afros, sideburns, mustaches, beads, and sandals completed anti-establishment looks.
Gen X Fashion
Generation X embraced individual expression over conformity in their fashion choices. The 1980s marked the rise of power dressing for career-focused Generation X. Women donned masculine-inspired looks like tailored suits with padded shoulders and low heels. Menswear took a turn towards flamboyant excess, influenced by pop stars and the new yuppie lifestyle. Designer logos, pastels, bomber jackets, and jogging suits defined the decade. The 1990s saw a shift to minimalism and grunge, led by Generation X and older Millennials. Flannel shirts, Dr. Martens boots, oversized silhouettes, and androgynous styles reflected their disaffected attitudes.
Androgynous glam rock style featured satin pantsuits, loud prints, metallic fabrics, platform shoes, and oversized sunglasses.[6] The 1977 punk explosion brought provocation through leather, spikes, ripped tights, tartan, and bondage gear — a drastic rejection of 70s disco decadence.
Power suits marked a return to professionalism in the 80s. Women paired bold shoulders, wide belts, and exaggerated geometric accessories with newly fashionable sneakers. Off-duty style leaned casual — oversized sweaters, leggings, fanny packs and sneakers. Menswear also expanded to casual clothing, with polo shirts, khakis, Member's Only jackets, and athletic shoes entering the mainstream workplace.
Millennials Fashion
Millennials came of age in a digital world filled with choice and self-expression. Indie sleaze, a revival of Y2K trends, captured this generation's nostalgia for its youth. The current millennial style favors retro fashions, colorful prints, comfortable athleisure, and gender-fluid clothing. Individual taste matters more than fitting a prescribed look.
Many millennials came of age during the McBling era[7] of the early 2000s. Hip-hop and pop culture favored low-rise jeans, tracksuit sets, Uggs, oversized sunglasses, and visible designer logos. Indie sleaze emerged as a counterculture centered around provocative neon party looks.
The 2008 recession caused a reversal towards more traditional staples — button-down shirts, trench coats, tailored separates, and classic leather handbags defined the moment. Nostalgic vintage pieces also grew popular, spearheaded by hipster culture.
Recent millennial style has adopted situational dressing — all black for the office, activewear, and sneakers for everyday pursuits. Dramatic sleeves, novelty prints, trench coats, and statement jewelry update classic pieces. Eco-conscious brands and modern minimalism now prevail over conspicuous logos.
Gen Z Fashion
Today, Generation Z is spearheading uniquely modern fashion aesthetics. From e-girl and e-boy looks[8] to VSCO girls[9] and cottagecore[10], Gen Z identity revolves around internet subcultures. Sustainable clothing and genderless style hold increasing appeal. Social media apps like TikTok and Instagram fuel the rapid rise and fall of micro-trends personalized to each user.
As digital natives, Gen Z has pioneered fashion driven by social media connections rather than location. E-boys and VSCO girls represent just two of many online stylistic communities that have emerged.
Oversized, slouchy streetwear reflects Generation Z's casual outlook. Retro 90s and early 2000s styles have made resurgences through cropped tops, chokers, baggy jeans, platform shoes, and Y2K graphic prints. At the same time, TikTok accelerates trends rapidly, with viral aesthetics like cottagecore, light academia, balletcore, kidcore, and others spreading quickly.
Sustainability and gender fluidity are also important values. Thrifted, upcycled, and genderless clothing resonates more than conspicuous branding. Make-up and self-presentation traverse masculine, feminine, and androgynous expressions.
Generation Alpha Fashion
Generation Alpha is still developing its sense of style. Members of this generation will likely pioneer fashion that merges the digital and physical worlds through wearable technology.[11] Gen Alpha will have nearly unlimited access to globalized culture and self-expression. Their fashion will be innately internet-driven and integrally linked to technology. Augmented and virtual reality may expand self-presentation capabilities.
Gen Alpha may be the most empowered generation to freely shape fashion untethered to gender, age or other constructs. However, their specific preferences will emerge over time through their creativity.
The Future of Fashion
Fashion has evolved with the technology, music, values, and influences of each era. It reflects generational rebellion and reinvention of identity. As digital natives, Gen Z and Alpha will continue pioneering fashion centered on tech, sustainability, and self-expression. The future is full of choices for how different generations will use clothes to show what is important to them. In the years ahead, we can expect big changes in how we use what we wear to say who we are.